NASA's EOS Drifting Orbits Community Workshop
On November 1-2, 2022 NASA held a hybrid community workshop soliciting information on the science that could be enhanced or facilitated due to the free-drift orbit that Aqua entered in 2022.
The virtual webinar workshop agenda included 6 sessions over two 7-hour days. Between the opening and closing plenary sessions were a total of 8 instrument breakout discussions run in parallel and 546 unique workshop participants attended over the two days.
The responses from the workshop were compiled in a report. The findings from this workshop concluded that the gradually changing MLT of Aqua's "drag-down, free-drift" orbit enables exciting new science opportunities, e.g., observing closer to the prevalent time of peak land convection and wildfire activity, while still collecting science quality data.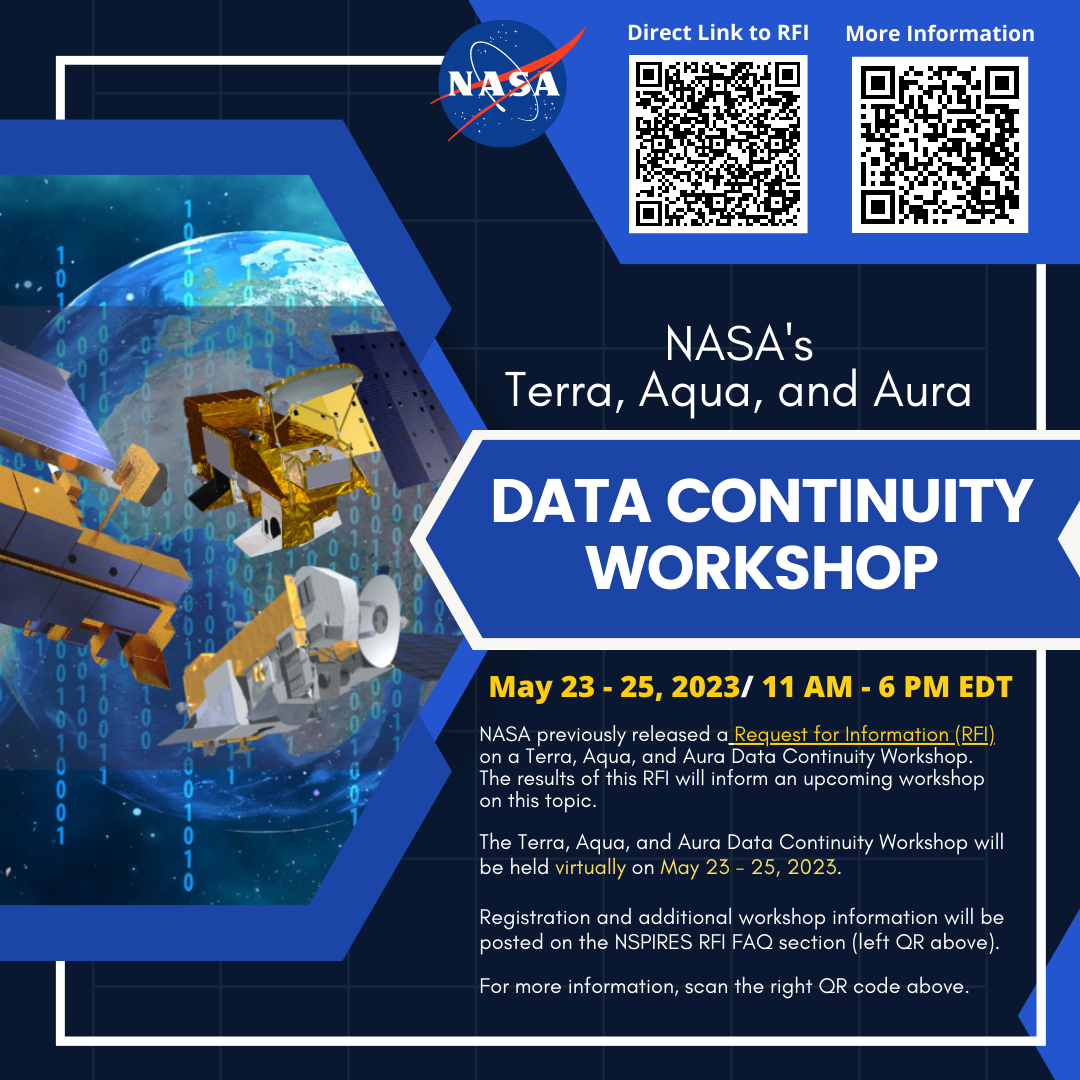 NASA's Terra, Aqua, and Aura Data Continuity Workshop
In early 2023, NASA put out a Request For Information (RFI) seeking input from the science community and stakeholders on data product continuity needs, capabilities, and gaps and continuity as the NASA EOS Terra, Aqua and Aura missions are nearing the end of their operational lifetimes. 
The workshop will be aimed at identifying (i) possible alternatives to the Terra, Aqua, and Aura data products for process studies and applications, (ii) mechanisms for continuing Terra, Aqua, and Aura Climate Data Records, and (iii) critical gaps.
The RFI responses were due April 4, 2023 and will be used to plan a virtual workshop which will be held on May 23-25, 2023 between 11am-6pm EDT.
In April 2022, a workshop was held by the US Drought Montior and NASA/JPL AIRS drought team in order to highlight the use of AIRS data to monitor drought. 
"Recent studies indicate that drought indicators based on near-surface air relative humidity (RH), air temperature (T), and air vapor pressure deficit (VPD), derived from the Atmospheric Infrared Sounder (AIRS) instrument aboard NASA's Aqua satellite can detect the onset of drought earlier than other drought indicators, specifically standardized precipitation index (SPI), which is widely used for drought onset detection."
Read the BAMS arcticle on the workshop here.